Anthony Pateras is a Macedonian-born Australian pianist who links composition with improvisation and electronics in different ways in different contexts. He focuses on expanding the organizational possibilities of sound through an exploratory approach to timbre, form and performance. Live, he appears regularly throughout Europe and Australasia in various guises: on prepared piano in the Pateras Baxter/Brown trio, on voice & electronics in duo with Robin Fox, in the mutant hip hop quartet Beta Erko or as a conductor of his own notated works. He has released numerous albums, recording full length releases for Tzadik, Editions Mego, Synaesthesia and Quecksilber, and additionally writes music for film. Recently, he has performed at the Next Music Festival, Bratislava (2005), Why Note Festival, Dijon (2005), Lieux Communs, Paris (2005), Noise & Glamour, Moscow (2005) Melbourne Festival (2005), Netmage05 Festival, Bologna (2005) What Is Music? Festival, Australia (2002 -2005), Liquid Architecture, Melbourne (2004), Festival de Musiques Innovatrices, St-Etienne (2004), Bomb the Space,Wellington (2004) and Alt.Music, Auckland (2004). He is a founding member of the electro-acoustic sextet Twitch, and has organized numerous concerts of exploratory music in Melbourne as curator of the Articulating Space series and festival.
As a composer, his notated music has been performed world wide by performers such as the Dutch Radio Kammerorkest, Melbourne Symphony Orchestra, Flux String Quartet, Slave Pianos and percussionist Vanessa Tomlinson. Recent distinctions include a recommendation at the UNESCO International Rostrum of Composers in Paris (2004), an honorable mention at the EAR Radio Competition in Budapest (2003) and an honorable mention at the Gaudeamus Music Week (2004). His string octet Chromatophore will receive its US premiere in October 2006 from the Los Angeles Philharmonic, and he is currently working on new percussion sextet with electronics for the Slagwerkgroep Den Haag.
Pateras has also written music for short films which have screened at festivals in the US and Canada (Telluride, Hawaii, Mill Valley, Montreal), South America (Rio, Sao Paulo), Russia (Message to Man), Australia (Melbourne, Sydney, Brisbane, Darwin) and Europe (Cannes, La Huesca, Dresden, Bilbao, Edinburgh, Berlin), winning the Klangmusik Preis for best score at the 2003 Dresden Film Festival.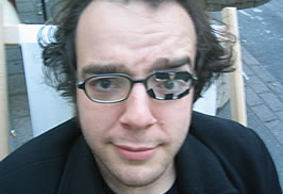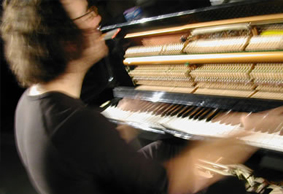 Natasha Anderson is an Australian musician/installation artist performing with the unique combination of contrabass recorder(blokfluit), electronics, voice and mixed media. Since completing her music studies at the Amsterdam Conservatorium and with a masters in performance studies, she has performed and devised works in the genres of improvisation, electro-acoustic composition and performance/installation, presenting a wide range of music in Europe, Japan, New Zealand and around Australia.
Currently influenced by the work of visual artists Hannah Wilke, Helen Chadwick and Cindy Sherman, Natasha is interested in exploring how the framing of identity and embodiment may be articulated and read within performances that combine the aural with the visual. Rejecting any idea of essentialism, Natasha plays with an (often awkward) juxtaposition of dualities — corporeal/instrumental, corporeal or instrumental/digital, acoustic/processed (Max/MSP), improvisation/composition and surface/interior as well as employing extreme frequencies and dynamics.